#267 [魚導日常] 英文簡報小聚 講稿亂拼湊第一版
後天就是英文版簡報小聚了
還沒報名的可以點–>這邊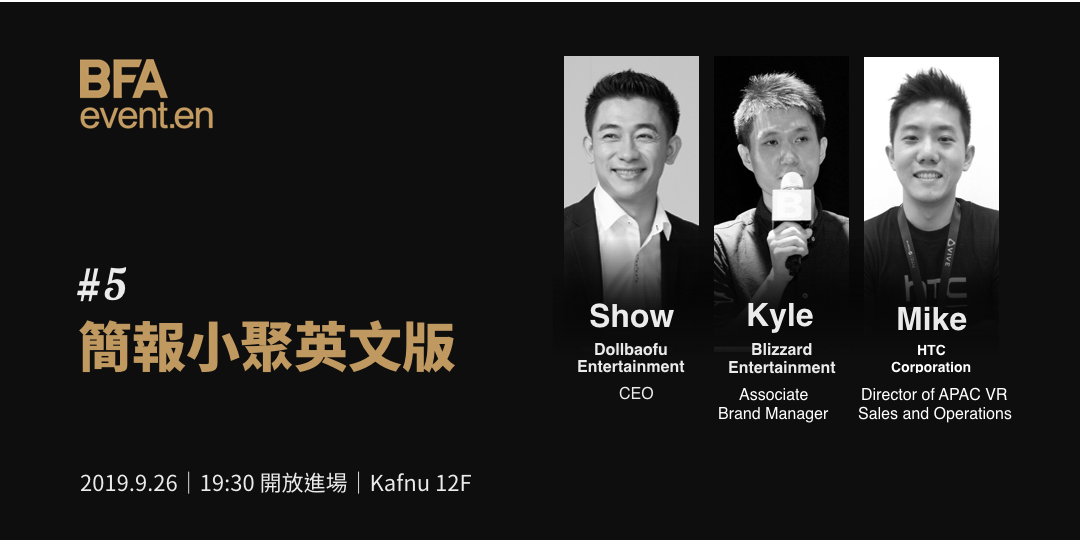 當初一股腦的毛遂自薦要去講英文
結果真的開始寫稿子之後
發現真的沒這麼好寫啊啊啊啊
而且很多單字都忘記了
還要一個一個查
總之今天就先把第一版
應該錯誤連篇的英文稿
先傳上來
然後認真修改後
之後會再度傳一版
到時候就可以好好的比較
我的英文文法時態到底錯在哪
希望到時候可以順順利利
就這樣啦
英文稿第一版全文:
Goodnight everyone.
My name is SHOW.
I'm very glad to be here
share the stories about my Career
To all you guys.
FIRST,
WHO AM I ?
A TV program producer
Working for a famous TV program
Called PEOPLEPARTY
for 7 years.
WHO AM I ?
A Startup company
Made COMEDY SHOWS
And put on the INTERNET
for 6 years.
Lots of my friends Always Said
YOU ARE Such a LUCKY guy on ur CAREER
BUT
In fact,
ALL MY CAREER
Was started from this word.
REJECT !!!
Let back to this day
2006 August 1
I was a rookie working on
my first tv shows for 1 month.
My producer ask me in his office
"Everyone said you are not Suitable for this JOB"
And I say
"Fine I'll quit"
So I finish my Application for Resignation.
Go to Personnel department.
And give it to this women
HR PENG
She Take down the glasses and ask me
Because the salary is too small?
No
Because the working hours too long
NO
Than why you wanna quit
Because the Producer said
"I am not suitable for this JOB"
She look at me
And ask me slowly
"There are a lot of TV programs in our Company"
"Why don't you give yourself one more chance"
And I said
"I am a big fan of PEOPLE PARTY, I want…"
"Okey just go to PEOPLE PARTY"
suddenly
The last day of my career in TV production
Became
The first day of my career in PEOPLEPARTY
AND I STAY
Not one day
But 7 years
Than I became a PRODUCER in 2009
And earned
"Golden Bell THE BEST variety show Award"
In 2011
When I standing on the podium
holding the Trophy
I can't even open my eyes.
Because of the spotlights
In that moment
I have a deep feeling
Maybe I AM
SUITABLE
FOR THIS JOB!!!
AFTER THAT
I leave PEOPLEPARTY
And start my own business
My own company
called
Dollbaofu Entertainment
I work so hard to make
The most interesting comedy shows
And put on facebook and youtube
Some clips are more than A Million clicks
In 2016 Aug 1
I want to create my own IP
Called Busycabincrew
I need more Resource
I need more MONEY
So I Apply for government subsidies
Than I got a mail
A BIG REJECT
AGAIN
Because they think
1 I'm not innovation enough
2 It's impossible to make every clip HIT
Over a million clicks
3 they don't know what I want to do
A Clip?
A Channel or
A Brand
So I have been REJECT AGAIN
I need to find money by myself
Fortunately I meet some EC boss
They willing to support me
They make my dreams come true
So the first episode of Busycabincrew
Release at 8 o'clock in the evening
on August 31
2016
50 hours later
We got the first million clicks
The whole season one of bcc
Are all over a million clicks
more than 700,000 follower
And more than 200,000,000 clicks
Till NOW
We make it
From Impossible
To POSSIBLE
And Earned
"Golden second THE BEST short video Award"
In 2017
When I standing on the podium in Beijing
holding the Trophy
I can't even open my eyes.
Because of the spotlights
In that moment
I have a deep feeling again
Maybe I AM
SUITABLE
FOR THIS JOB!!!
13 years of my career till now.
Can be summarized in one sentence
Don't let someone tell you,
you can't do something.
You got a dream, you gotta protect it.
People can't do something themselves,
they wanna tell you that you can't do it.
You want something?
Go get it.
My name is show
This is my story
Thanks for listening